Bowing & Buckling Foundation Wall Repair Near Lexington, Georgetown, Richmond
The PowerBrace™ Foundation Wall Repair System for Failing Walls
What It Does:
Failing foundation walls should be a serious concern to homeowners.  If you notice your foundation walls beginning to bow, buckle, or tilt, outside pressure from soil and water may be too much for your walls to handle.  Don't let this condition get worse, you definitely don't want to deal with collapsed foundation walls!
An effective patented foundation wall repair system that will stabilize your failing basement walls is not far away.  The PowerBrace™ is composed of steel I-beams that will brace your failing basement walls and return them to their current position without any further adjustment.
To continue to straighten your walls, the PowerBrace™ Systems can be tightened and adjusting to truly fix those bowing or tilting walls.  
Technical Features
Neat, clean appearance in the basement
Minimal disruption of basement space
No outside excavation required
All components are zinc-coated for rust resistance
Can be tightened to allow for improvement of the wall over time
Bracing Your Bowing, Buckling Foundation Walls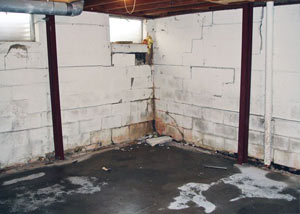 Sub-par I-beam systems will rust and deteriorate over time. The PowerBrace™ system includes a zinc-coating that protects it from this kind of corrosion.
Our Geo-Lock™ Wall Anchors are the perfect solution for a bowing or buckling foundation wall.  The only downside to this solution is that it requires access to the earth outside of the foundation.  This wall anchor system could also be eliminated as an option if there are property line issues.
If our experts examine your foundation and determine that the Geo-Lock™ Wall Anchors are not the ideal solution to fix your structural issue, the PowerBrace™ system may be used instead.
The PowerBrace™ employs a unique, patented approach to stabilizing and straightening bowed and buckled foundation walls over time.
More About Foundation Wall Repair
More About Our Foundation Repair Products
Installing the PowerBrace™ Wall System
The PowerBrace™ foundation wall systems immediately and permanently halts the inward movement of your foundation walls once installation is complete.  This system is an excellent solution because it can be installed with no disruption to outside soils or landscape and is quick to install.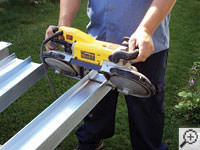 Cutting Wall Braces
The I-beams and support hardware of The PowerBrace™ wall repair system are specially coated with rust-resistant zinc to keep your system looking and performing like new.
The number of strong, steel I-beams that are required for your wall repair will be determined by one of our many in-house foundation experts.  Before a PowerBrace™ is installed in your home, it must be cut to size basement on the height of your basement.  We will cut each beam to the appropriate height to custom fit each beam.
---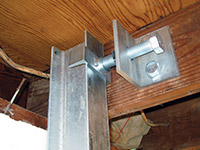 Securing The Floor Joist Hardware
After the braces are cut, they are attached to a floor joist near the mudsill at the top of the wall.  Our uniquely designed brackets are then bolted to the floor joist with a large-diameter bolt for adjusting and tightening after the installation.
A PowerBrace™ installation will not damage your floor framing. To ensure the effective and efficient performance of this wall repair system, one of our foundation contractors will inspect the strength of your floor joists prior to recommending this repair strategy.
---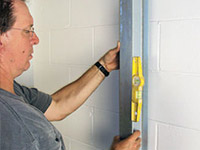 Fine-Tuning The PowerBrace™ Positions
We at The Basement Doctor of Central Kentucky take pride in the excellent service and lasting quality of each of our installations.  Our contractors will use a level to fine-tune the position of each beam because when they are perfectly vertical the PowerBrace™ Foundation Wall System works best.
---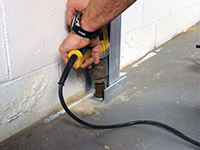 Attaching Braces To The Floor
When the installation of your PowerBrace™ is just about complete, it is time to attach each beam to your concrete floor.  This step is accomplished with a special bolt-in-place bracket that keeps that beams nice and tight as to hold the foundation in place. 
The PowerBrace™ System is unique in that it spans the entire height of your foundation walls, unlike other foundation wall repair methods that install from the inside of the foundation walls. This specially designed system can repair walls that are sliding inwards from the bottom, tilting inwards from the top, or are bowing and buckling from the middle.  Overall, the PowerBrace™  System is ideal for many foundation repairs.
---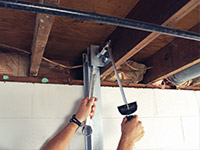 Straighten Walls
The PowerBrace™ System includes a unique, patented adjustment mechanism that is unlike any other I-beam foundation wall repair system.
The bracket that anchors each I-beam to a floor joist includes a long bolt that can be tightened over time to advance the I-beam. This can force a bowed or buckled foundation wall back toward is original vertical & straight position. Straightening potential depends on several factors, including soil conditions outside the foundation.
Your Foundation Wall Repair Contractors In KY
To help you decide if we're the company for you, we offer free foundation wall repair quotes throughout our Kentucky service area.  At The Basement Doctor of Central Kentucky we want to help you restore your bowing, buckling, tilting, or shifting foundation walls back to their original, structurally stable condition. 
We proudly serve Richmond, Lexington, Georgetown, surrounding areas such as Frankfort, Nicholasville, Shelbyville, Danville, Middlesboro, Somerset, Berea, and many other parts of KY.
Each of our Free Estimates includes a no-obligation written price quote, an on-site consultation, and a copy of our 96-page full-color book "Foundation Repair Science".
Looking for a price? Get a no cost, no obligation free estimate.