Steel Foundation Wall Anchors Installed Near Richmond, Lexington, Georgetown
Wall Anchors for Bowing, Buckling Walls
We at The Basement Doctor of Central Kentucky have solutions for a wide variety of structural problems you may be experiencing with your foundation walls:
Horizontal or Stair-Step Cracking
Diagonal Cracking at Corners
Inward Bowing or Bulging
Walls Sliding Inwards
Walls Tilting Inward At The Top
Our highly qualified foundation experts are ready to install our custom-designed wall anchor systems in your home today.
Proven Corrosion-Resistant Wall Anchors
Many of our solutions can be finished in a single day because of our trained and experienced crew of in-house foundation contractors. Our patented wall anchor installation are uniquely designed to install quickly and with minimal disruption to your home and landscaping. Our system is constructed with galvanized steel which allows for long-term corrosion resistance.
When the installation of our wall anchor system is complete, your foundation walls' inward movement should be immediately and permanently repaired.
Foundation Supportworks' Geo-Lock™ Wall Anchors effectively restore the structural integrity and value of your home.
Call or e-mail us today to schedule your free wall anchor installation quote!
More about our foundation repair products.
Foundation Supportworks Wall Anchor Products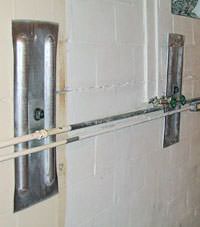 The Geo-Lock™ Foundation Wall Anchor System
Are you looking for a permanent solution to stabilize your foundation wall? This innovative wall anchor system anchors your foundation walls to the hard-packed virgin soil beyond your foundation. This allows for a tight hold and an immediate fix.
Wall anchors can often be tightened over time to further straighten your foundation walls and pull them back to their original position as well. This ensures that your walls will always be moving in the right direction instead of shifting and bowing.
Advantages Of The Geo-Lock™ Wall Anchor:
Potential To Straighten Walls Over Time
Permanently Stops Inward Movement of Walls
Year-Round Installation
Minimal Disturbance to Lawn & Landscaping
---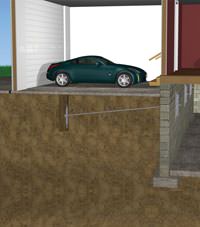 The Geo-Lock™ Street Creep Repair System
A foundation that has been damaged by street creep usually requires a two-part repair technique.
First, new expansion joints are installed along the driveway to relieve the pressure on the wall. Then, a Geo-Lock™ Wall Anchor System is installed along any damaged foundation walls.
Advantages Of Our Street Creep Repair System:
Minimal Disturbance to Garage Floor
Year-Round Installation
Permanently Stops Inward Movement of Walls
Potentially Straightens Walls
---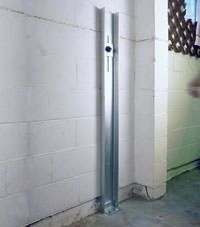 The Geo-Lock™ Channel Anchor System
Bowing, buckling, tilting, or inward-moving foundation walls are signs of extreme wall failure. The Geo-Lock™ Channel Anchor System not only provides a permanent solution for these problems but also is designed for optimal bracing and failure protection.
This complete wall anchor system includes a channel anchor that mounts on your foundation floor and wall. These keep everything in place for years to come.
Advantages Of The Geo-Lock™ Channel Anchor System:
Channel connects to earth anchor embedded deep in soil
Zinc-plated components prevent rust
Installations usually completed in less than a day
Immediately stabilize walls pushing in at bottom
---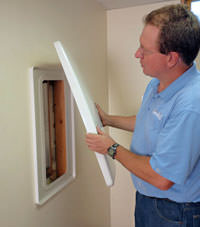 Hide-A-Way® Wall Anchor Covers
Hide-A-Way® Wall Anchor Covers are the perfect solution if you're planning on finishing your basement after the foundation repair is complete. These covers will also keep your basement looking clean and attractive even if finishing your basement isn't the plan.
Our wall anchor covers are designed specifically for our Geo-Lock™ Wall Anchor System. Thanks to the cover's snap-on design, it can provide quick, easy access to wall anchor tightening bolts, so that further adjustments on the wall anchors can be made.
Advantages Over Stone, Ceramic, and Marble Tile:
Looking for a price? Get a no cost, no obligation free estimate.