Sagging & Sinking Crawl Space Repairs Near Richmond, Lexington, Georgetown
Structural Sagging Solutions For Crawl Spaces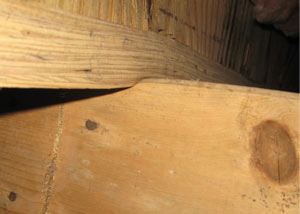 A floor joist shows signs of compression due to the weight of the home -- and too few support posts.
Inadequate crawl space support leads to sinking floors, uneven floors, and damage to your structure.
Crawl space jack posts provide a fast, permanent solution to this problem. They're a great option for homeowners investing in home repairs.
The Problem:
Your crawl space is experiencing structural problems that are causing it to sink or sag in the middle.
What's Happening:
Crawl spaces experience structural sagging for these three primary reasons:
Telltale Signs:
Door & window frames skewed and/or unlevel
Tilting or sinking crawl space supports
Cracks in interior drywall
Moist, rotting wood
Too few supports in the crawl space
Sagging, sloping, or uneven floors upstairs
How to Fix It:
To ensure that your structure is properly stabilized, additional crawl space supports should be installed.
By installing a crawl space liner and removing excess moisture from the crawl space mold and rot will no longer be a problem either.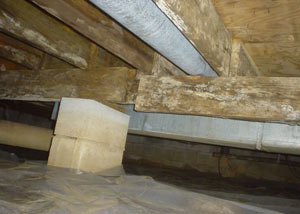 A moldy, unsupported girder (right) sinks under the weight of a home -- due to an improperly installed crawl space support. If not addressed, could mean significant damage to the home.
Advantages To Our System:
The SmartJack® System that we install at The Basement Doctor of Central Kentucky uses adjustable heavy duty steel crawl space jack posts. These posts not only install quickly in a home but also provide the best solution for restoring stability to your structure.
The SmartJack® has many advantages that make it an excellent solution for sagging crawl spaces. It is made with galvanized steel for corrosion resistance, it can support vertical loads exceeding 60,000lbs, and it can be installed in tight conditions- all of this in usually less than one day!
Our crawl space jack system stabilized sagging floors and can even restore them to their original position in many cases.
To address the issue of poor supporting soils, each crawl space jack distributes the weight of the home through a precast concrete footing and a base of engineered fill material.
The SmartJack® is the only solution that addresses problem soils during crawl space restabilization!
Installing the SmartJack®
Installing the SmartJack® is a fast process that will not disrupt your home or landscaping. During our crawl space repair, your installers will follow these five steps: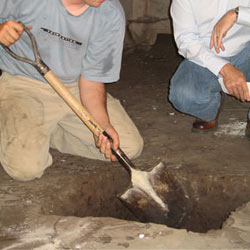 Preparing For Installation
Meeting with a system design specialist is the first step to effectively return your home to its structural stability. Our specialist will explain our system and the perfect solution for you. They will also be able to answer any questions you may have about your crawl space repair.
To ensure a proper installation, the location for each crawl space support jack is mapped out for your installer.
Upon arrival and at the beginning of installation, our team of in-house crawl space repair contractors will excavate a 2' square, 2' deep hole at each SmartJack® location. Each of these holes will be prepared with engineered fill consisting of tightly compacted crushed stone.
---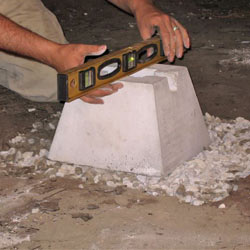 Placing the Pre-Cast Footing
A pre-cast concrete base (or footing) is placed on top of the engineered fill and carefully leveled.
Some building codes may require a poured concrete base rather than engineered fill. The engineered fill base underneath the footing provides solid support that won't shift, settle or be affected by soil moisture. The footing serves as a stable base for the steel jack post, keeping it vertical and distributing the weight bearing on the post across a broad area of soil.
By the time the weight is distributed through the pre-cast base and the fill, the bearing stresses have dissipated to approximately 10% of the stresses at the top of the post. Even if you have weak supporting soils, you can be assured that the weight of the building will not exceed their bearing capacity.
---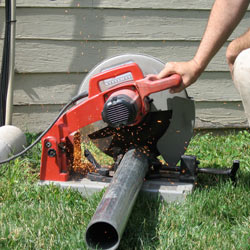 Cutting the Jack Posts to Length
After a strong footing is installed, measurements are made for the steel crawl space jack posts. Next, the posts are cut to length so that they are custom fit for your specific problem.
Each SmartJack® that we install is manufactured with a triple-layer, in-line galvanized coating. The triple-layer coating process includes:
A uniform hot-dip zinc galvanizing layer
An intermediate conversion coating enhances corrosion resistance
A clear, organic top coating to further enhance appearance and durability.
The inside of the pier tube also has a zinc-rich coating which protects the steel from corrosion.
The remaining steel components of the Smart Jack™ come standard as zinc-plated in accordance with ASTM B633, "Standard Specification for Electrodeposited Coatings of Zinc on Iron and Steel".
This high-quality, permanent solution for your crawl space is one that can be trusted for years to come. The installation of our SmartJack® system will keep your home stable and secure so that there's no need to worry in the future.
---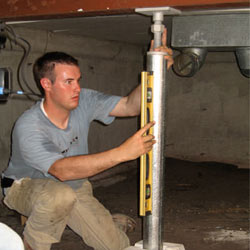 Assembling & Tightening
Each crawl space jack post is assembled in your crawl space. The top of the crawl space jack is mounted against the girder, and the installation is carefully plumbed.
In cases where existing girders are undersized or damaged by rot, a new sister girder may be installed alongside the original in order to strengthen and reinforce the structure.
Each SmartJack® is then tightened in an attempt to lift the floor back to its original position. In many cases, your contractors will be able to straighten and level floors, close cracks in walls, and halt future downward movement. The jacks will continue to be adjustable for future tightening, should you need it.
---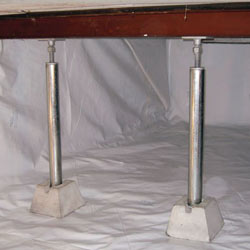 Encapsulating The Crawl Space
Is mold, rot, and moisture plaguing your crawl space joists, girders, and/or supports? Then you will definitely want to address these issues before further damage ensues.
Crawl space encapsulation is a process that involves sealing all crawl space vents, installing an airtight crawl space door, and lining crawl space walls and floors with a durable plastic liner. This treatment can also include additional drainage measures like installing interior drains and a sump pump.
Encapsulation stops moisture-related damage and associated structural problems that occur when framing members rot and deteriorate. By investing in crawl space encapsulation, you'll also improve overall home energy efficiency and indoor air quality.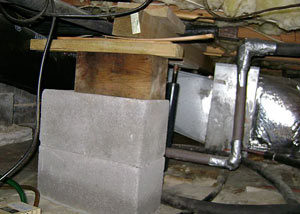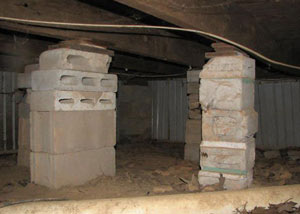 Some homeowners and contractors will attempt to use concrete blocks to repair a sagging crawl space, with wooden "shims" wedged in at the top to fill in any empty space.
This kind of installation is a short-term solution that requires constant maintenance and reshimming. And because your concrete columns will continue to sink into the earth below, this solution will ultimately fail.
What NOT To Do
Here are three "fixes" that we at The Basement Doctor of Central Kentucky do NOT recommend:
Concrete Columns
Concrete blocks are sometimes used to support crawl space girders or beams. These blocks are generally stacked on a concrete footing and held together with mortar. When the concrete column has been built and the mortar has cured, the extra space between the uppermost block and the floor girder above is filled with wooden spacers or "shims".
The process of waiting for the concrete footing and mortar to cure is slow and time-consuming. When the completed columns are in place they cannot be adjusted. This is a main reason why we do not recommend this "fix". Additional shimming will be needed as the concrete column settle or the wood girder shrinks.
Additional Shimming
This is a "cheap fix" solution for repairing a girder and floor that have sagged because of settled concrete columns. Temporary jacks are used to lift the girder, and wooden shims are pushed between the existing column and the floor girder. The jacks are then removed.
This is a short-term fix only - the concrete columns will continue to settle, requiring additional shimming and maintenance in the future.
Light-Duty Jack Posts
Many hardware stores and home centers sell skinny, light-duty jack posts. These adjustable steel posts are usually installed on top of a concrete block that rests on the ground in the crawl space.
Although they may seem like a good fix, these posts hold very little weight, have poor stability and are difficult to adjust. Also, they won't compensate for poor supporting soils in the crawl space. This is not the solution you need!
We're YOUR Crawl Space Structural Support Contractors!
If you'd like a permanent solution for your crawl space issues or any other foundation problem, we're ready to help you. We offer free crawl space structural repair quotes to homeowners in the Kentucky area. To schedule your free, on-site visit and written estimate, call or e-mail us today!
Our service area includes Lexington, Richmond, Georgetown, and nearby areas such as Frankfort, Nicholasville, Shelbyville, Danville, Middlesboro, Somerset, Berea.
Looking for a price? Get a no cost, no obligation free estimate.